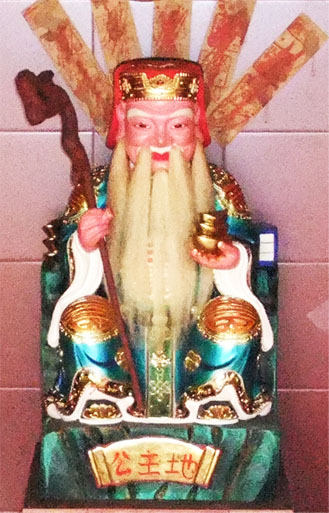 地主俗称:地主神,土地公,五土龙神等 … scroll down for English


> 祭拜地主祭品的习俗在南洋一代很普遍。无论居家或商店都有安地主。坟墓也有安后土的习俗。
人们相信有安地主才能保佑属于自己的土地范围。
>民间觉得地主属于居家的小神明,一般不在初一和十五祭拜,只在初二和十六才祭拜。许多人却为了方便,
平时都在初一和十五与其他神佛一起祭拜,而到了年头的 "头牙" 和年未 "尾牙" 才按照习俗在农历二月初二和
十二月十六日以比较 "丰富" 的祭品来祭拜地主。

>地主传自早期一个村落的村长或村里容有很多土地的富豪。村民逢任何问题都会向村长或地主求助。
至今,地主已成为人们祈求财富和福德的神明之一。
祭拜土地公
农历十二月十六日 "尾牙" 为拜谢地主在过去一年所赐的吉祥。此日也是清洗地主神位,更换金花和红绸球并供拜祭品。
农历二月初二日为 "头牙" 为祈求地主赐财富及保佑家宅平安,此日也供拜祭品,简单清洗,金花红绸等就不再更换。
地主神祭品布阵


五果为大柚(大有)、黄梨(大利)、 桔(大吉)、 香蕉(招金)、发糕(大发)。
荤料祭品: 鱼(无足), 鸡(双足), 烧猪肉(四足),春卷五条,五加皮或五罐黑啤酒。(以上荤品可代用素料五味)。
地主香焚至半香后即可开始焚化金银纸…
焚化金银贵金宜顺序分开, 不宜混乱或整叠丢入化宝金炉。
神定、地主符、金银龙、龙袍、金银纸、贵人金最后布上。
 焚化金银
焚化金银纸时宜取旺火浓烟, 不宜混乱搅拌焚化中的金银纸。

DiZhu 地主, direct translation means " The Landlord ". In the old days, DiZhu is a head person of the village . He is responsible for all matters of the village including law enforcement, business transactions, welfare, education, finance, marriage etc…
In modern day context, he is equivalent to the position of a Town Councilor or a State Senator. DiZhu 地主 is usually a very wealthy person who probably owns the majority of properties, land, farms in the village; he has also a wide scope of influences and the ability of all forms of connections with other villages and town, even the central governing body.
The Power of Wealth of the traditional DiZhu 地主 has extended to modern communities and becomes one of the spirits worships in most households, especially in the Southern territories. In modern day buildings, apart from households, DiZhu 地主 can also commonly be seen in business offices and shops. DiZhu enable blessings of wealth, prosperity and protection of any property where he exists.