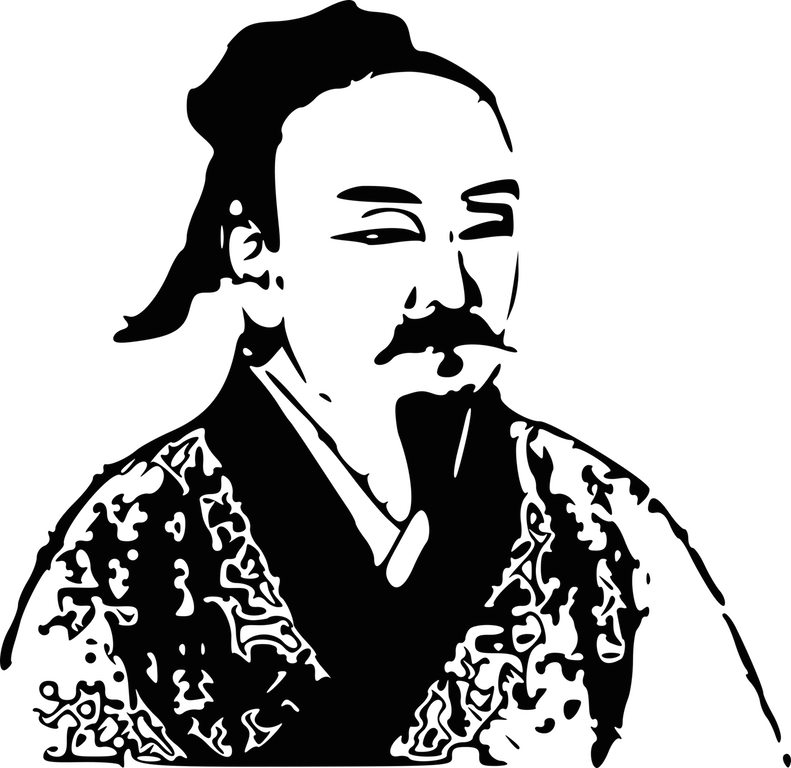 Fan Li (Chinese: 范蠡; pinyin: Fàn Lǐ) was an ancient Chinese advisor in the state of Yue in the Spring and Autumn period. He was born in 517 BC, it is unknown when he died. He is also known by the name Tao Zhu Gong which he took after victory over the state of Wu. [wikipedia]. In traditional chinese customs, he is also known as the god of fortune; he being one of china's wealthiest merchants in this time.
The Twelve Golden Rules are as follows:
Ability to know people's character. You must perceive evidence of characteristics from experience.
Ability to handle people. Never prejudge a prospect.
Ability to stay focused on the business. Have a definite focus in life and business and avoid jumping around.
Ability to be organized. A disorganized presentation is unappealing.
Ability to be adaptable. Make sure you are organized enough to respond quickly.
Ability to control credit. Do not allow nonpayment. Make sure you collect what is owed.
Ability to use and deploy people. Use employees in ways which bring out their potential(s).
Ability to articulate and market. You must be able to educate customers on the value of goods.
Ability to excel in purchasing. Use your best judgement in acquiring stock.
Ability to analyze market opportunities and threats. Know what is selling according to areas and trends.
Ability to lead by example. Have definite rules and standards. Make sure they are followed to ensure good relations.
Ability to have business foresight. Know market trends and cycles.
The Twelve Golden Safeguards are:
Don't be stingy. Never confuse efficiency with inhumanity.
Don't be wishy-washy. Be confident in pursuing opportunities. Time is of the essence.
Don't be ostentatious. Do not overspend in order to make an impression.
Don't be dishonest. Truth is the only basis for business. Without it someone will get hurt.
Don't be slow in debt collection. Without collections, liquidity is affected.
Don't slash prices arbitrarily. This will only trigger a price war in which everyone will lose.
Don't give in to herd instinct. Make sure the opportunities are real and not part of a craze.
Don't work against the business cycle. When things fall in price, they will then rise and vice versa.
Don't be a stick-in-the-mud. Keep up with things and make progress. Examine new things objectively.
Don't overbuy on credit. Credit is not license to spend wildly.
Don't under-save (keep reserve funds strong). When business is slow, one with money can expand while others close.
Don't blindly endorse a product. Make sure your vendors are still following standard operating procedure.
and here is the original Chinese version.
陶朱公生意经(范蠡商经)
范蠡商经
生意要勤快,切勿懒惰,懒惰则百事废 价格要定明,切勿含糊,含糊则争执多 费用要节俭,切勿奢华,奢华则钱财竭 赊欠要识人,切勿滥出,滥出则血本亏 货物要百验,切勿滥入,滥入则货价减 钱财要明慎,切勿糊涂,糊涂则弊端生 临事要尽责,切勿妄托,妄托则受害大 账目要稽查,切勿懈怠,懈怠则资本滞 接纳要谦和,切勿暴躁,暴躁则交易少 主心要安静,切勿妄动,妄动则误事多 工作要精细,切勿粗糙,粗糙则出劣品 谈话要规矩,切勿浮躁,浮躁则失事多 出入要谨慎,切勿潦草,潦草则错误多 用人要公正,切勿歪斜,歪斜则托付难 优劣要细分,切勿混淆,混淆则耗用大 货物要修正,切勿散漫,散漫则查点难 期限要约定,切勿马虎,马虎则失信用 买卖要随时,切勿拖延,拖延则失良机
三略
积著之理,务完物,审贵贱,无息币。
货略的核心 – 以物相贸易,腐败而食之货勿留,无敢居贵。 货物的品质要完美。
价略的核心 – 论其有 不足则贵贱之,贵上极则反贱,贱下极则反贵,"贵出如粪土,贱取如珠玉"。是范蠡的经营商业的名言。 要注意价格变化规律。就是货物供求关系的有余与不足。
市略的核心 – 讲资本金营运策略。无息币,就是说货物、资金都要不停地循环,运转。他说,如此"则币欲其行如流水。"币即钱,钱即泉,流动不息。莫要使货币停止流动。
三谋
人谋 用人要正,忠奸定兴废。 大事要慎,妄托受大害。 待人忌躁,暴躁交易少。 处事宜静,浮躁误事多。 言行宜和,和气能生财。 做事宜勤,懒惰百事废。
事谋 用度宜俭,奢华财源败。 做工宜精,粗糙出劣品。 货期要准,马虎失良机。 交易要速,拖延失良机。 进货要严,滥入货价减。 出纳要谨,潦草差错多。
物谋 优劣要清,混淆耗损大。 存物要整,散漫难查点。 价格要明,含糊多争执。 赊欠要审,滥出亏血本。 账目要清,糊涂弊端生。 查账要勤,懈怠滞本金。
要把握住天下各国政治、经济、军事,人民生活各方面动态的情况下,来进行经营活动,遣钱如用兵,遣物如用兵。 商战如同用兵,真真假假,虚虚实实,要运用自如。这是策略问题。在商业实践,则要切记:商业重信用。谈生意不能暴露商业秘密,那样,要么赚不到钱,要么就谈不成生意,商战也如同用兵,兵不厌诈,否则,就吃败仗。诚和信是在货物的品质、价格、交货付款期限这些方面,必须诚实无欺,是指商务实践,不是指商业谋略。 对于如此重大的生意,不能像你那样去谈。你表明了浓厚的兴趣,意在必得,那么,在议价时你就处于不利的地位了。你若是表现出可买可不买,对方又是想把货物出手,那么,议价时你就占居主动了。 既然是把经商视为用兵,那么,了解各地情况就成为首先要做好的事情。所以,我们先要周游列国,详勘商道。每到一处,都要问那里商品的价格,来源,需用多少,有何特点,销往何处。
为人而不能独善其身,如何能兼济天下。(要放下面子,要有生存能力) 王焱,你只要努力去做了,做到何种程度倒是其次。人生天地之间,如同星空里流星一闪,能做多少事情呢,一生努力,也就无愧于心了。